To register demo account follow the link http://www.ctsfutures.com/ and click Free demo. After it fill in a registation form and click Register. Login and password will be sent to your email.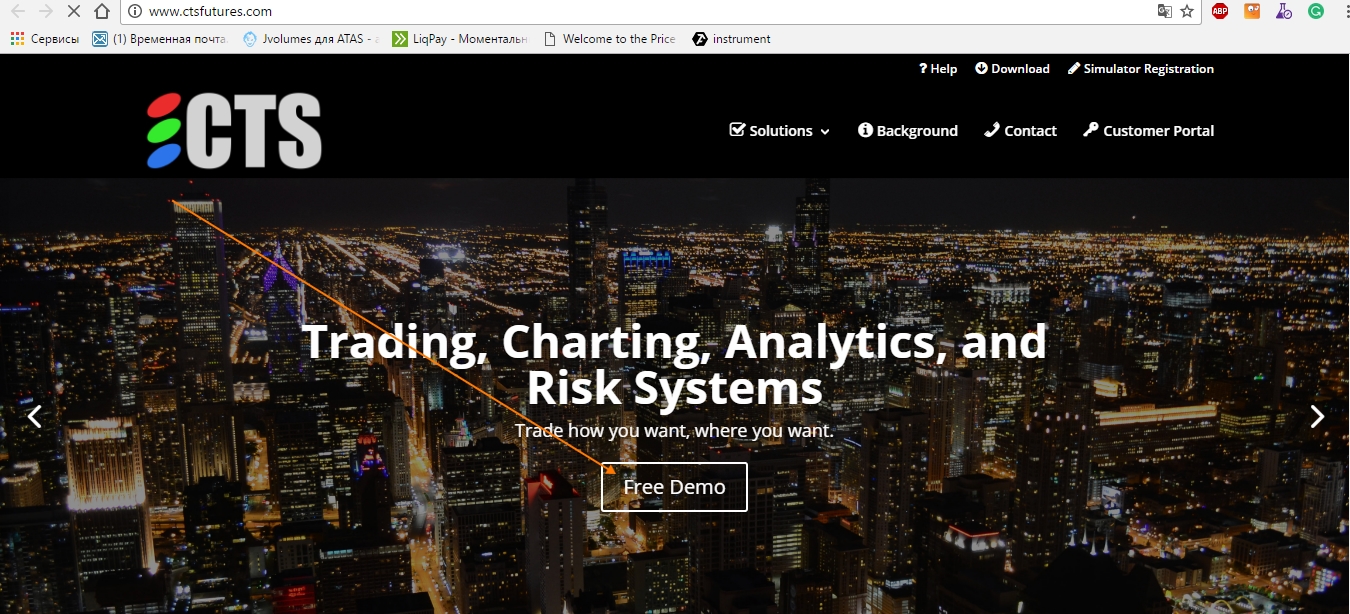 IMPORTANT: This demo account provides data with a delay of ten minutes.
To configure the connection CTS to the ATAS platform, choose one of the options:
Go to the main window menu - Settings, then the submenu Connection to DataFeed

.

Left-click once on the connection indicator in the main platform window.
This will open the connection window:
To add new a connection click Add


Next, a window opens with a list of available accounts and vendor quotes:

In this window, you select the CTS connection type and click Next.
Next, a window opens for the signing of the agreement:

If you are agree, click I Accept, Please continune

OCO (one cancels other) orders for the CTS connection are locally emulated on your computer. This means that the platform must be connected to your broker for OCO orders to function properly. If you are disconnected and an OCO order is filled, the other orders of the same group WILL NOT BE CANCELED!

1) In the connection window, enter the login data
received from the broker (login, password and the Firm as well as other data)
by clicking on the arrow button.
2) Click Next.
* Logging level: the logging level is selected independently by the user! The selected level has an impact on the level of awareness of the combined account (i.e., what exactly the contents of logs will describerequired for troubleshooting). 4 logging levels are available:
* After setting up the connection appears as a separate line in the terminal window:
1. Type - source connection.
2. State. After adding a new connection, the status default Disconnected. To connect you must click Connect button.
3. Quotes Source - The option of choice quotes provider.

IMPORTANT! Only one quotes source must be connected for Russian and US markets!
4. If you want to connect to happen automatically when you launch the platform, you must enable the option Connect on startup.

5. Connection Setup button.
6. Remove the connect button.
7. Disconect button.
8. Add a new connection button.
9. Save settings button.
Was this article helpful?
That's Great!
Thank you for your feedback
Sorry! We couldn't be helpful
Thank you for your feedback
Feedback sent
We appreciate your effort and will try to fix the article